Covenant Christian Academy Leadership
At Covenant Christian Academy, the Board and Administration work together to provide Christ-centered, servant-hearted leadership for the CCA community.
The Board of Trustees (The Trustees) is entrusted with the fundamental responsibilities of providing Covenant Christian Academy (CCA) with sound governance, fiduciary and spiritual oversight, and direction ensuring that the purpose and mission of CCA remains consistent. Although the Board of Trustees are not involved in the policy making role as that of the governing ministry board, The Trustees are involved, as outlined in their governing documents, in several specific decisions where the governing ministry board must have Board of Trustee approval. The Board of Trustees governance, oversight, and direction is accomplished solely through oversight of the Ministry Board. The Board of Trustees is the final authority should there be a conflict with the Ministry Board.
Trustees
Pastor Keith McCullough (School Founder, Pastor of Mount Zion Baptist Church Warrenton), Pastor Tim McGowan (Living Hope EPC Haymarket), Pastor John Kuvakas (Warrenton Bible Fellowship), Pastor Vinicent Holland (First Baptist Church Warrenton), Meredith Hinkey, and Paul Fernandez.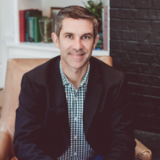 Scott Shortmeyer, Chair
Scott grew up in Central NJ and transplanted to Northern VA in January 2003. He and his wife, Allison, have three girls in CCA – LillyKate, Ellie, and Lanee. He comes to us with 20 years of IT Sales, Marketing & Operations experience. Scott has served in the community as a volunteer coach for cross country and soccer, leading small groups with Allison. Additionally, Scott has previous experience serving on a school board, as well as committees and community groups at work.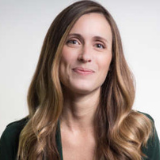 Caroline Foster
Biblical Inspiration: Ephesians 4:32
Caroline received her bachelor's degree in media production from Missouri State University. She has professional experience in public relations, news writing, and video production, and is grateful for one year of employment at CCA as an assistant teacher. She and her husband, Ben, have three children who all attend CCA. The Fosters have been part of the CCA family since the 2012-2013 school year.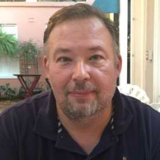 Joe Jordan
Biblical Inspiration: Philippians 4:13
Joe is a product of Catholic schools in Baltimore, MD, starting with Holy Rosary grammar school, Archbishop Curley High School, and Loyola College (now University) in Baltimore. Joe has experienced both Christian and non-Christian multi-cultural environments while growing up in inner-city Baltimore and through his extensive travel. In his mid-20s, he moved to Europe where he resided for 13 years, then traveled the world on business extensively until his family became a priority.
The constant traveling resulted in Joe marrying the only woman he regularly contacted – his travel agent, Dana, who has become the CCA Bingo Queen. Shortly after they married, Dana gave birth to boy-girl twins, Tate and Reese. They all have been active in CCA since 2012. Joe is currently the vice-president and general manager of a boutique technology consulting firm he co-founded which focuses on providing technical, process, and security solutions to various DOD IC customers. In his free time, he enjoys having fun with his wife and kids, and dogs and keeping up with different technology trends. He and his family are active members of Community Christian Fellowship.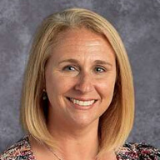 Janelle Hitt
Biblical Inspiration: Galatians 2:20
Janelle Hitt is wife to Mike and mother to 3 children: Alison, Mackenzie, and Andrew. Mrs. Hitt began teaching middle school math at CCA in 2016 and became Athletic Director the next year. She now teaches Algebra 1. Her love of sports is evident to all as she travels all over to watch her own kids play soccer, basketball, or baseball, taking any opportunity to catch a college or professional football game – Skol Vikings!
Throughout her career, Janelle has worked in roles such a Middle School teacher, Director of Children's Ministry, High School board member, and Office Manager. She was involved as a parent volunteer at school, a team mom, and soccer league manager.
Janelle is grateful to be a part of this wonderful community of believers and thanks God for the opportunity to serve Him through the ministry and education happening at Covenant Christian Academy.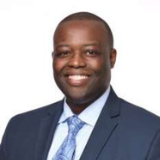 Chris Alibaruho, Vice Chair
Biblical Inspiration: Isaiah 6:8
Chris Alibaruho was born in Northern Virginia as a first-generation Ugandan-American. He grew up around the world in his youth, spending 5 years in Sierra Leone, 5 years in boarding school in the United Kingdom and annually visiting Uganda. He obtained his bachelor's degree in Marketing from Penn State University and currently works in educational technology as a software Account Executive. In addition, Chris also owns a national direct sales organization and is part-owner of a 158-acre tea farm and tea processing factory in Uganda.
One of Chris's business partners and good friends started a NAUMS-affiliated school in North Carolina, which led to him seeking out a similar school in Virginia for his family, and that is how he found CCA. He and his wife, Diane, have been supporters and cheerleaders for CCA's mission, even before their children were enrolled. They have three boys who have been enrolled in CCA since the 2018-2019 school year (Brandon, Dominic, and Christian), and their younger sister, London, looks forward to joining them in a few years.
Chris is known to many at CCA as the leader of the All-Pro Dad chapter at CCA. All-Pro Dad is a monthly school gathering where dads enjoy breakfast with their kids and engage in meaningful conversations and activities centered around a character-based curriculum.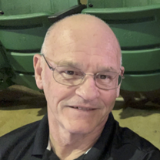 Edward (Ed) Wolfe
Biblical Inspiration: Proverbs 3:5-6
Ed Wolfe retired from Marriott International in 2020 after almost 40 years as a Software
Developer, Senior Systems Analyst, and Project Manager.
Ed is married to Debra (Deb) Wolfe, who also retired in 2020 from Prince William County Schools after 11 years as a Technical Education teacher and Instructional Technology Coach.
They have two sons (David, Mike) and a daughter (Jamie) who all attended Bethlehem Baptist
Christian Academy in Fairfax. Ed served on the church Deacon board which provided guidance
to the school and as a basketball coach.
Ed and Deb have five grandkids (Kale, Kyler, Camden, Nathan, Micah). Kyler and Camden have been students at CCA since they started school and they will be joined by their younger brother
Nathan in 2021. Ed and Deb are members at Park Valley Church in Haymarket. In addition to serving on the CCA board, Ed also works part-time in the Finance department at
Park Valley Church and enjoys doing anything outdoors, especially if it involves the grandkids, bicycling, or motorcycling.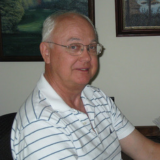 John Tittle
Biblical Inspiration: 2 Cor 6:1-2
John Tittle is a retired US Air Force officer where he spent 21 years in the avionics and comm-electronics career field. He then spent 21 years at Computer Science Corporation where he was a Program Director for various government and corporate computer system implementations. After CSC, he started a management consulting practice which continues today.
John and his wife Carolyn live in Haymarket and their three grandkids go to CCA. John is an active member of Living Hope Evangelical Presbyterian Church where he has been involved in his calling to men's ministry.


Jason Taylor
*bio coming soon
Bobby Gore
*bio coming soon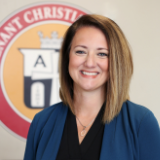 Andrea Sponsler, Head of School
Biblical Inspiration: Colossians 3:17
Andrea is a licensed teacher in the Commonwealth of Virginia. After finishing her degree in elementary education at Indiana Wesleyan University, Andrea taught for five years in Loudoun County Public Schools before deciding to stay at home with her children. Upon returning to the professional education field, Andrea gained experience teaching at CCA in both the classroom and satellite settings. Her role at Covenant focuses on utilizing this wide range of perspectives to focus on curriculum evaluation and implementation, in addition to providing professional development opportunities, support, and encouragement for teachers and parent co-teachers. Andrea ensures implementation of instructional best practices and monitors and evaluates academic performance.
Andrea is married to Jonathan and they have three children, Hollis, Rogan, and Hazel. They all attend CCA and the unique University-Model® of schooling has been a blessing to their entire family.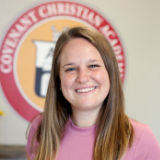 Ashleigh Lloyd, Middle School Principal
Biblical inspiration 2 Corinthians 12:9-10
Ashleigh earned a Bachelor's degree in 2010 and a Masters degree in Education in 2011 both from Liberty University.
After teaching preschool for four years, Ashleigh had the privilege of being a stay at home mom for a few years after her oldest daughter was born.
In 2014 Ashleigh started teaching again at a local Christian school, where she taught various classes over the years, then in 2019 became the assistant principal and then the elementary principal.
Although Ashleigh enjoyed her time in the traditional school setting, she is very excited to be joining the CCA family.
She is thrilled to have the opportunity to spend more time at home with her children while still getting to do what she loves and feels called to do, which is loving and interacting with people.
"His grace is sufficient"
Ashleigh is married to Justin and they have three children together, Lotus, Leera and Satchel. They will all attend CCA and are excited about this new adventure!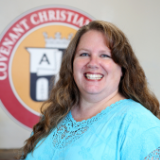 Sarah Fletcher, Elementary M/W Principal
Biblical Inspiration: Philippians 2:3-4
Sarah has been involved in educating children for over 20 years. After graduating from Texas A&M University Kingsville in 2000 with a BS in Elementary Education, she immediately jumped into teaching in Dallas, Texas. Her specializations are in Early Childhood Education, Reading, and English as a Second Language. In 2008, Sarah and her husband Aaron moved to Virginia where she began to teach in a private school in Manassas before staying at home with her children, Charlie and Sadie. When her oldest child was ready to start kindergarten the Lord called the Fletcher family to CCA. The Fletchers are richly blessed to be a part of the CCA family. Sarah's previous roles at CCA include teaching First Grade (2017-2020) and Assistant Principal (2020-2021). She is currently the Principal of our Tuesday/Thursday program.
Laurie Ward, High School Principal
Biblical Inspiration: Ephesians 5: 1-2 and Colossians 3: 1-2
Laurie's undergraduate degree is in business. After designing and selling workstation cables in the Silicon Valley in California for several years, she went back to school for her education certification. She finished her education certification at Texas A&M in Corpus Christi Texas. Laurie taught at C. Hunter Ritchie in Warrenton, Virginia for 10 years in order to be with her children at school. Laurie started teaching middle school math and Bible at CCA in 2014. She moved into the Secondary Director role in 2017 and then Secondary Principal in 2018. She has completed half of her Biblical Counseling Certification with CCEF.
Laurie is married to Andrew and they have three children, Drew (graduated VT 2017), Amanda (graduated VCU 2018), and Adam (graduated CCA 2019). CCA was an answer to prayer for Adam and a blessing to the entire family.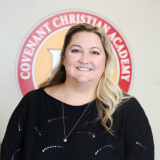 Jordan Webster, Elementary T/TH Principal
Biblical Inspiration: Psalm 27:1
Jordan has been working with students across various campuses, churches and athletic teams for over 15 years. After graduating with her B.A. from Vanguard University in Orange County, CA, Jordan became a long-term substitute teacher in Chula Vista, CA as well as a coach, private tutor and in-home instructor. After she had her son, she simultaneously earned her Masters of Arts in Education from National University, helped educators in San Diego create and design curriculum and home schooled her son. Jordan then went on to teach 3rd Grade and was the Assistant Director at a hybrid-homeschool academy in La Mesa, CA before their family made the cross country move from San Diego to Virginia.
Jordan joined CCA as the M/W Elementary Assistant Principal before becoming the T/Th Elementary Principal. Jordan is married to Morgan and they have one son, Beckham, who is a current student at CCA. The Websters are thrilled to be a part of this school community and find such a joy in being satellite teachers to their son!